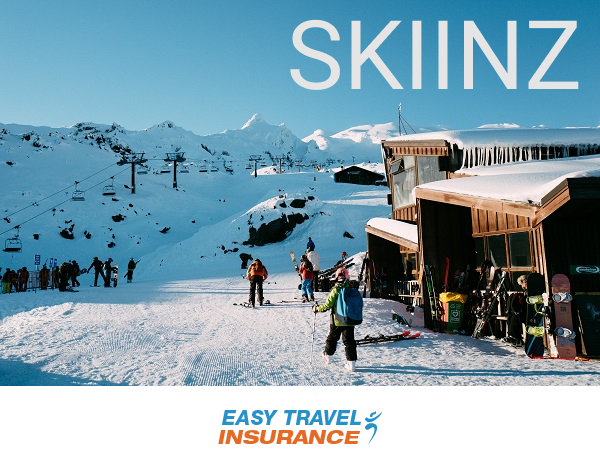 SKIINZ
With everything that's going around the world, we could all use a break. If you want to get away from the monotony of your everyday life, overseas options are limited but by no means completely off the menu. A trip to scenic New Zealand is definitely a viable option all year round but in winter it really is a wonderland on our doorstep just crying out to be enjoyed.
Long winters in the mountains, truly awe inspiring scenery and breathtaking destinations coupled with a very distinct ski scene make New Zealand number one on many a winter bucket list. And when you add New Zealand's world class produce, cuisine, beer, wines and hospitality to the mix it's hard to believe I am still sitting here writing about it instead of getting a booking sorted!!
Last year, like much of the world, New Zealand implemented safety precautions in response to COVID-19, which significantly impacted the 20/21 ski season. This included a 14-day quarantine for foreign visitors, physical separation on and off the mountain, contact tracing and in addition cleaning and sanitation practices were strictly enforced at all resorts.
The NZ AU travel bubble means the limits that were in place last year are not expected to impact travel plans now, so start planning already!
Where to go?
The ski resorts are open, and the mountains of the Central Plateau, Canterbury, and Central Otago are covered with fresh snow. Snow lovers can make a point of visiting several ski fields in Queenstown since there are four world-class ski fields within an hour and a half of each other. Try heli-skiing, snowboarding, cross-country skiing, or sledding for a wholesome experience.
With direct flights from major cities in Australia and New Zealand, getting to Queenstown is easy, and you spirit away from the airport and be up the mountain or in Queenstown's bustling town centre in minutes.
Exploring Queenstown
Queenstown's ski fields have diverse and true alpine scenery, with the nearest being just 20 minutes' drive from the town and invites skiers and snowboarders for one of the longest seasons in the Southern Hemisphere from June to October. The four ski areas each have their own distinct character and offer unrivalled scenery, world-class facilities, and fantastically diverse open and treeless terrain.
While the dates are subject to change, it is safest to book your vacation near the middle of the season to ensure that you will have plenty of snow! If you book too early or too late during the Queenstown ski season, you may not be able to ski at all.
The four ski areas are:
Cardrona Alpine Resort (12 June - 17 October 2021)Cardrona invites all levels of snow enthusiasts, from newcomers and families to X Games and Winter Olympic medallists. Cardrona has 8 different cafés and restaurants, 15 on-mountain homes, a covered Learner Conveyor to make learning to ski fast for beginners, a fully-licensed early childcare centre, the South Island's most comprehensive lift facilities, and the Southern Hemisphere's most extensive terrain parks and halfpipes.
Coronet Peak Ski Area (19 June - 26 September 2021)
Coronet Peak is the nearest mountain to Queenstown and is just a 20-minute drive away on a sealed road. Beautiful high points and rolling paths provide experienced skiers and riders with plenty to sink their teeth into. For those who are new to the snow, dedicated learner and beginner areas make it easy to find your snow feet.
The Remarkables Ski Area (26 June - 17 October 2021)
The Remarkables is a 40-minute drive from central Queenstown and is noted for its pleasant environment, high altitude, and north-facing sunshine slopes. There's plenty of space for beginners, dedicated freestyle zones, amazing major mountain possibilities, and some of the best alpine views in the country.
Treble Cone (26 June - 26 September 2021)Treble Cone provides an exclusive New Zealand mountain experience for snow enthusiasts. Treble Cone's snow sports school and beginners field, situated alongside the Base Lodge and Café, provides gentle progression for those new to snow sports. Treble Cone is known for its long, immaculately groomed runs and some of New Zealand's finest off-piste scenery - wide-open faces and steep chutes packed with dry, cool snow.
What to do?
Apart from exploring the four fantastic ski locations, you can also indulge in other activities such as:
Nightlife - After you've put your skis away for the day, drive to the waterfront to experience Queenstown's nightlife. There are chic restaurants, sophisticated clubs, Kiwi cafes, craft beer bars, and late-night hotspots to choose from. The après ski scene in Queenstown is unrivaled, and there will be a steaming hot mulled wine waiting for you.
Sightseeing - The region's spectacular scenery will take your breath away, particularly in winter, when the Wakatipu Basin is surrounded by white-tipped mountain peaks. The area extends from Gibbston, near Central Otago, with bleak, sandy, and golden rocky landscapes, to Glenorchy, near the West Coast, with lush green bush and higher rainfall. One of the most beautiful and scenic drives in the South Island is from Gibbston to Queenstown and then to Glenorchy.
Fun with Family - Steamship or yacht cruises on the island, luging, mini-golf, ten-pin bowling, Frisbee golf, iFLY indoor skydiving, ice hockey, farm tours, and the Kiwi Birdlife Park are all common family activities.
Winter Sports - If you're looking for an adrenaline rush, Queenstown is well-known for its nail-biting practices. Bungy skiing, jet boating, skydiving, zip-lining, paragliding, dirt riding, and four-wheel driving are all sure to get your heart racing!
How to ensure your safety?
Reliable travel insurance is always a must if you are travelling but even more so during these times. From covering snow-sport injuries to medical care if you contract Coronavirus or become a close contact, Easy Travel Insurance has cover to ease your mind while planning your trip and to protect you while you are out enjoying your meticulously planned escape from home.
All you have to do is head to our website, enter your destination, travel dates, and ages of all travellers to get covered instantly online. Here are just a few highlights of how we can help you:
Snow Sports - Cover for snow sports is available as an option with all Easy Travel Insurance policies for an additional premium, so if you are heading to the snow you should select this option when purchasing cover for your trip.You can get a quote online or over the phone but even if You pay the extra premium, You will only be covered if:You are skiing or snowboarding On-PisteYou are not racing; andYou are not participating in a professional capacity
Corona Virus - Easy Travel Insurance is one of the very few travel insurers that is still supporting travellers through the pandemic. Check out our Covid-19 web page for more information relating to cover for coronavirus-related risks and to see how we can help you with travel within Australia and New Zealand during these Covid-19 times. In some cases, cover extends to other destinations too.
Group Insurance - If you are travelling as a part of a big group, getting a group plan could be more feasible. In case you are travelling to multiple destinations, visit our website and just put the destination you will spend the most time at and enter your current age. This applies to a maximum group size of 9 people. For groups of 10 or more travellers contact us directly for competitive rates.
Pre-existing Medical Conditions - We automatically cover a wide range of pre-existing medical conditions. Many conditions that are not included automatically can also be listed on your policy.
To get cover for conditions not automatically included, simply get a quote from our website and when you pick your travel cover type you can apply for cover for any travellers included in the travel plan. The automated, 'smart system' will help you if you don't know the accurate spelling of your condition, simply start typing the first few letters and close matches will be displayed. When you select a condition from the list of suggestions you will be prompted to answer a few questions relating to your condition and when you have finished you will be advised in real time if cover can be added to your policy and if approved you can add to your travel plan. In some cases you may need to pay an additional premium, and then you're ready to go.
July 21, 2021