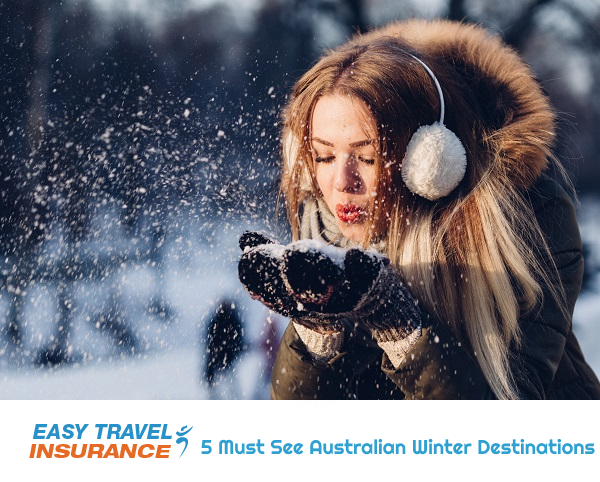 5 Must See Australian Winter Destinations
5 Must See Australian Winter Destinations
Winter is here! Visit world-class winter spots and enjoy the fresh mornings, bright days, and cosy evenings that the Australian winter has to offer.
Seeing Australia in the winter is a perfect proposition. Whether you want a cooler vacation in the south to escape the heat of the north or a tropical retreat to warm your bones, there are destinations in Australia that are ideal for the perfect getaway with options to suit all budgets. The best part is that you'll nearly always spend less than an overseas trip on accommodation, sightseeing or touring trips, plane tickets, and pretty much everything else.
This year everyone is talking SNOW so pull out the UGG boots, warm your bones in front of a roaring fire, chill out with a bottle of one of the fantastic local wines on offer, and do something unusual — Get out and experience an Australian winter break.
Here are our top 5 winter holiday destination choices across Australia, in no particular order, for you to explore:

Visit the ski resorts in New South Wales and Victoria
If you're thinking about going skiing in Australia, you won't have too much trouble deciding where to go. You have two options: the Snowy Mountains in New South Wales or the Victorian Alps in Victoria.You'll enjoy an awesome ski vacation whether you visit the Snowy Mountains in New South Wales or the Victoria Alps in Victoria. Falls Creek in Victoria contains some of the sharpest terrains in the country, while the Snowy Mountains are Australia's tallest mountain range.
Australia's Ski Season
The snow season in Australia is quite short, lasting from early June until the end of September or early October. Be aware that while the "official" start of the ski season is in early June, this does not always correspond with appropriate snow cover and the genuine opening of the ski resorts.

Hike Tasmania's Overland Trek
What this state lacks in size, it makes up for in beauty — and the best way to explore it is on foot. Tasmania, whether you call it hiking, bushwalking, or trekking, has over 2,800 km of walking trails and over 880 distinct routes in its national parks, conservation areas, and reserves.
Tasmania's trails range from short jaunts and short treks through rainforests to multi-day expeditions that take more than a day up to the state's highest peak. There are several alternatives available, including climbing to mountain summits, strolling through beautiful temperate rainforest, immersing yourself in history walks, seaside walks, and even city walks. Foodies may go on specialised food and wine walks to explore Tasmanian culinary and wine havens.
Dove Lake, Bay of Fires, Crater Lake, The Nut, and Pine Lake are among the top hiking destinations.

Visit the Blue Mountains in New South Wales
The spectacular Blue Mountains encompass one million hectares (3861 square miles) of thick forests, sandstone cliffs, valleys, and waterfalls.
Winter, with its fresh crisp air and reliable weather make it the ideal season for a Blue Mountains excursion.
Enjoy the expansive vistas and the natural splendour of the Blue Mountains World Heritage Area. You will be amazed by its blue haze of eucalyptus trees that seem to go on forever.
On a trip focused on the outdoors, go out on foot to explore some of the 87 miles (140 kilometers) of walking trails, observe the native bushland, marvel at the spectacular rock formations, and explore underground caverns. Before retiring to a luxurious retreat surrounded by wildlife, listen to Dreaming Stories told by local Aboriginal guides and see the work of native artists.
Don't miss:
Set out on one of the many bushwalking routes available.
The quiet One & Only Wolgan Valley Resort and Spa is a great place to unwind.
Darleys Restaurant serves exquisite food.

How to get there:
The Greater Blue Mountains World Heritage Area is located about two hours west of Sydney. It is best explored by car although it is equally accessible and enjoyable by rail and coach excursions. Sydney Airport is approximately one hour and forty minutes east of Katoomba, the main Blue Mountains town.

Discover the vibrant metropolis of Sydney, NSW
There is always something to do and see in Sydney, no matter what time of year it is. You don't have to visit during the summer to enjoy everything this great city has to offer.
Most years Darling Harbour is converted into a winter wonderland in July, complete with an ice rink, as well as the spectacular Vivid Sydney Festival, which fills the city with multi-coloured light displays.
The winter events and the locals' upbeat mood make the season more vibrant than normal in Sydney.
Here are our top picks for attractions:
Sea Life Sydney Aquarium - Discover the underwater world
Bondi Beach - Go for a walk along the beach.
Vivid Sydney — Marvel at the illuminated attractions
Historic Luna Park – Take some joy rides
Sydney Opera House - Attend some concerts there
Australian National Maritime Museum – Learn about the Australian navy
Madame Tussauds – Meet the famous wax celebrities
Royal Botanic Garden - Discover exotic trees, shrubs, flowers and other plants from all over Australia nd the wide world beyond

Go wine-tasting in the Barossa Valley of South Australia
The combination of red wine and crackling log fires makes South Australia's Barossa Valley the ideal winter escape.
The Barossa Valley is famous for producing some of the world's greatest red wine, and the Mediterranean environment (warm summers, chilly winters) is ideal for complex and deeply satisfying Cabernet and Shiraz styles.
Good cuisine goes hand in hand with superb wine. Local and seasonal ingredients dominate menus, and chefs take pride in exhibiting the greatest food in the region. The town has a pleasant ambiance, with cafés, wine bars, and restaurants packed with visitors and residents.

Wherever you chose to (or can) go away on holiday, Australian destinations are fantastic places for a romantic getaway, family vacation or an opportunity to enjoy a break with friends so get out and enjoy the best winter climate on Earth. Remember though, even if you are travelling interstate or even within your own state travel insurance is still a very important consideration to ensure you protect your travel plans.
Easy Travel Insurance provides domestic travel insurance that can cover you for:
Amendments or cancellation costs and additional expenses
Luggage and travel documents
Rental car insurance excess
Travel delay
Special events
Loss of income
Disability
Accidental death
Personal liability
July 14, 2021