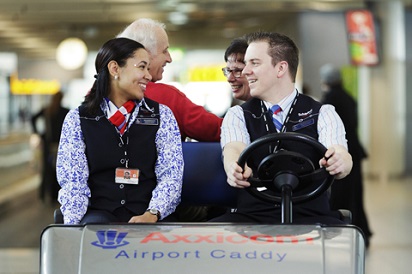 Senior Jet Setters
While Christmas and New Year celebrations start a little later in the year for some of us, thoughts of travelling to Australia for a Christmas in the sun may already be foremost in the minds of relatives with family and those with friends living there.
Elderly relatives and those requiring help because of mobility or disability difficulties may need a little extra help in getting there, as I found out earlier this year while making my own first trip around the world for a large family reunion. My Mother's 80th birthday meant this was a trip not to be missed and while my parents were confident that they were going to find this easy, having travelled to Australia six times previously, there was a gap of six year's since the last time they made the journey and globe-trotting can be exhausting for the best of us. For me, the excitement of travelling to see my brother and sister and their families was tempered by caution and worry - what if something went wrong?
Preparation was key to the success of this visit!
My brother helped to arrange the Visitor's Visa permit and Travel Insurance was a must at the time of booking. The cost of insurance can increase with elderly passengers as the risk of health and injury incidents increase, but the importance of a quality travel insurance product cannot be underestimated or understated.
Any prescribed medication should be kept in hand-luggage and before leaving it is very helpful to ask the family doctor to provide a list of the medication you will be carryingwith you on the journey. This should be kept to hand while travelling through security and for the length of your journey.Special Assistance is available (in varying degrees of quality) from nearly all airlines, cruise companies or other tour operators for those who find walking difficult, those who may experience eye-sight impairment, or senior citizens who simply find the whole long haul travel experience daunting, confusing and bewildering.
Requesting special assistance - What do I need to do?
While some will have travelled previously to Australia and have an idea of what to expect, some may not have travelled that far before. Those well-travelled passengers may find their requirements have changed over the years and now experience mobility difficulties and even if you are fairly mobile there can be long distances to travel within airports and assistance might be required and of course if you have any sort of disability you may also require special assistance at the airport.Under European legislation and similarly in many other departure points across the globe, the airline is responsible for your wellbeing as you board the aircraft and so you will find that most operators will provide special assistance. Larger airlines, such as Singapore Airlines will offer a continuation of the special assistance if requested so that the traveller receives the same level of support throughout the journey.
The best way to ensure assistance is to take the time before you leave home to pre-book special assistance with the airline you are travelling with; preferably at the time of booking or at least 48 hours before you travel. You should try and give as much notice as possible and at this point inform your airline if you intend to take your own mobility device, such as a wheelchair or scooter. Assistance is available for all ages, to include wheelchairs for younger travellers. Guide dogs can only travel if registered with a Pet Travel Scheme or similar and if permitted by your airline and holiday destination. Remember there may be quarantine requirements at your destination and you should check this with both the airline and confirm with the Border Control authority in your destination country.
As is the case with all travellers, your arrival at the airport at least two hours before the departure time and presenting yourself at check-in as soon as you arrive will help smooth things out, but it is worth remembering there is a fine line between being in good time and being too early, meaning less able bodied travellers have to wait for long durations in less than comfortable surroundings. Check to see when the airline will open the check in for flights and you may find it is up to 3 or 4 hours before departure. If you make the airline aware that you have arrived they will have plenty of opportunity to ensure your easy transition from the check in desk, right through security, customs and the boarding gate, ensuring you are seated and all set to go with as little effort and discomfort as possible. This is as close to feeling like Royalty as many of us will ever experience!
Depending on the service the carrier provides, you can expect to be transported by wheelchair or electric cart throughout the terminals, with your hand luggage carried on your lap, or aboard the cart and if there is room you may find accompanying travellers are afforded the same treatment.
It may be useful to think about these points before you travel.
Ensure that you don't have too much to stow in the overhead locker. Porterage can be arranged for you when you are at the airport and is usually provided free of charge, with small amounts of luggage. When I travelled with my elderly parents this year they both felt that they wanted to tip all the porter's and as you can imagine this was gratefully received, but it could work out very expensive when you travel half-way around the world.The Special Assistance areas in the airport terminals are located both before and after security. Once you have checked in a member of the airport staff will come to collect you and will often take you through security straight to the Special Assistance area. This may consist of a desk manned by staff who will ask for details of your flight and will arrange for you to be taken to the departure lounge in time for your flight.There will be comfortable(ish) seating and often a television to watch while waiting. If you are travelling with passengers who need special assistance, but do not require it yourself, you may be able to bring refreshments to them from nearby cafes but if they are travelling alone the staff in the special assistance area would collect this for you if you are not able to leave the area.
At Singapore Airport the staff will ask those travellers using the Special Assistance to give in their boarding pass and wear a large orange sticker on their outer jacket/top. My parents found this quite difficult to come to terms with and may cause them to worry, especially if they want to walk around the nearby shops and buy duty free goods. My Mother in particular wanted to take the sticker off immediately and found the language barrier and explanation a little confusing - because I was with them I could explain - it may be wise to discuss this before travelling with elderly relatives before you leave. The boarding pass is returned once the traveller has reached the departure lounge. My parent's and I were transported alonglong carpeted corridors within the terminals on an electronic cart and once we arrived at the departure lounge we were able to collect both the boarding pass and duty free purchases.
Special documentation is not required to book Special Assistance, but always have your passport and ticket/boarding pass to hand at all times. The passengers receiving special assistance will probably be invited to board the aircraft before other passengers; this gives them a chance to get comfortable and sit with other members of the party not requiring assistance before the rest of the passengers alight the aircraft. However, be preparedto be asked to sit until everyone else has got off the aircraft once you reach your destination - your carriage will await at the aircraft door!
Travelling on aircraft for such long periods of time can cause discomfort and with elderly passengers it is very important to ensure they consume as much liquid as they can manage - even if this leads to frequent trips to the aircraft toilet - this in itself is one way to ensure they stand up and move to help prevent DVT. Sitting between or beside your relative or friend for a total of 19 hours requires a special kind of love - my father found it very difficult to use the small touch screen in front of him to watch a film and even using the ear-plugs provided by the airline became a problem when combined with his hearing aid so a lot of patience and goodwill goes a long way on a long-haul flight.Jet-lag can cause a few sleepless nights for the passengers once they arrive at their destination - dozing off mid-sentence becomes a way of life for the first couple of days. During the first night the travellers may find they feel especially cold, this is one of the symptoms of jet-lag, and even in the sunnier climes of Australia it's a good idea to have a hot water bottle to hand for those who have travelled so far to see you.All in all travelling around the world, on what may have been my parents last journey to Australia was a wonderful experience and whatever age you may be if you can plan ahead and try to avoid the pitfalls of travelling your experience will be so much the better.
Remember – if you think you may need help – JUST ASK!
October 31, 2013